New levels of not busy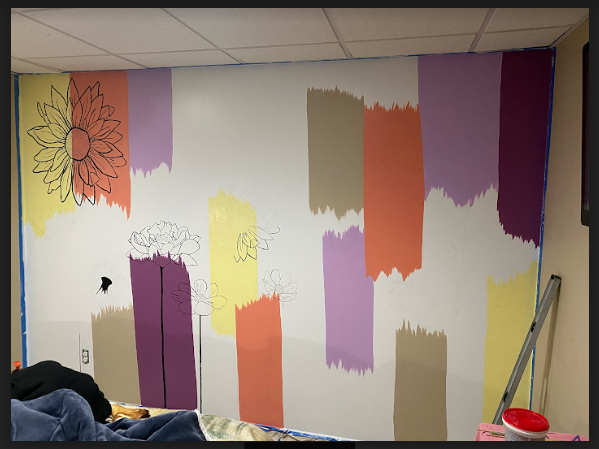 This pandemic is causing me to feel like Hannah Montana, it's been the best of both worlds. I'm saying this because quarantine has stopped all the activities in my life. In my normal life, I would be finishing my senior year of high school, and playing the rest of my sports for the last time. Instead, I have had the most free time I have ever had in a very long time. I have been sleeping and spending a lot of quality time with my siblings. Don't get me wrong, I love my normal life, but it is great to have these days to do the extra things I've always wanted to do. Definitely a completely different lifestyle.
In these past couple weeks, I have gone through movie nights, cooking lessons, art projects, and many books. Well, most are finished, the art project of my bedroom wall is taking longer than expected. Growing up, I always wanted to be one of those girls that had her bedroom wall painted with a design. So, I managed to convince my parents to allow me to do it! Plus, it allows me to bond with my sisters as they help me. 
I am just starting my third book right now called Glass Sword by Victoria Aveyard. It's the second book in the series of four and I CAN BARELY PUT IT DOWN! To me, it wasn't a shocker. My all time favorite show is Game Of Thrones and this book is a spun off version made for teen girls. It is perfect.
If this virus wouldn't have existed, my time would be spent with my friends through school, soccer and softball. The year would've still been unusual for the fact that this was my first year ever playing soccer. I heard they needed a goalie and decided to try out, and now I'm not able to fully see what it is like. For softball, I play slow pitch with a team of girls I've known for a long time. It's so much fun and it is kind of sad to know that season will be cut short a year.
  I love my best of both worlds so much. It added a twist in my life that I would never have known was possible. No matter how much I wish I could finish high school the right way, I'm okay with the scheduling changing that has occurred.