The Stress of Uncertainty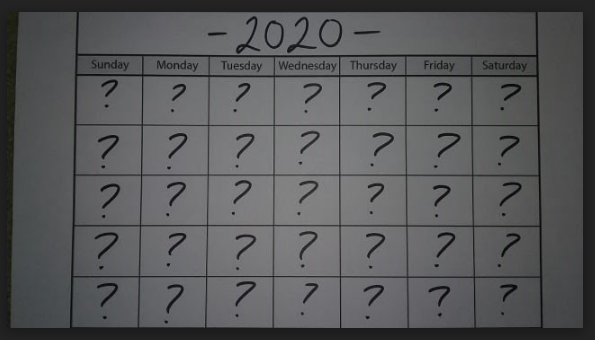 I've always been a planner.  I like to know what is going to happen and exactly when it is going to happen, down to every last detail.  I don't like change.  And I don't like not knowing things.  This pandemic has served out a heaping spoonful of both of these unpleasantries.
So many questions fill my mind, but no one seems to have the answers.
One of my questions was about graduation for a while.  I wondered if we would be able to walk the stage of the TaxSlayer Center, or if we would have a virtual ceremony.  On Wednesday, April 29th, we found out that there will be a virtual ceremony on May 30th.  There will also hopefully be an in-person celebration later on August 2nd "in the event that public gatherings will be allowed by the summer."
One big question for me is if I will get my driver's license before college.  That depends on many different factors.  When will the DMVs open up?  How long will it take for someone to feel comfortable getting in a stranger's car at close quarters to judge their driving?
My sister, Natalie, has her birthday on May 17th.  Usually, she invites a friend over for supper and a sleepover.  This year, we are still celebrating her birthday, but as a family.  She will still open presents, and my dad will still grill Roald Dahl's delicious mudburgers.  My 18th birthday is June 19th.  I am still unsure if I will be able to have a few friends over to celebrate, but the likelihood is doubtful at this point.
I was supposed to go on a mission trip to St. Louis for a week at the end of  June.  I really enjoy tutoring kids and spending time with older people, hearing their life stories.  This was supposed to be my last year, so I was especially looking forward to it.  Also, on our free day, since I am the only senior in my youth group, I was supposed to choose what activities I wanted to do.  I was planning a visit to the St. Louis Zoo and the Arch.  Although we are still planning for the trip, we all know that it will most likely be cancelled, and at best, moved to the end of July or early August.
One question I know many people are asking themselves right now is if marching band will be happening this summer and fall.  I, too, am asking that same question.  I was planning on joining the marching band at Monmouth College, but I am not sure if the season will occur, or even if I will physically be at college at that point.
Another quandary is the fate of my first year of college.  Will I start my freshman year of college online?  Or will I be heading off to Monmouth College in the fall?
Will I be able to go out and shop for school supplies?  Or will I have to order everything online?  When will clothing stores open up?  When will it be acceptable to try on clothing in stores?  When can I go thrifting again?
When will life return to normal?  Then again, what is normal?
When will we be able to see our friends and family members again, without having to stay six feet apart?  When will hair salons and barber shops open?  When will we no longer feel the need to wash our food as soon as we return from the store or quarantine it for three days?  When will we go back to school?  When will activities resume, such as sports and the arts and youth group?  When will this pandemic end?
The truth is, we do not know.  No one does.  Even when life does return to "normal," it will be different.  We are unsure of the long term effects of the pandemic and quarantine, but we will find out at some point.
I have been trying to focus on what I can control, instead of worry about the uncertainty of the future.  It can be hard at times, because I do not have as many activities to distract myself with as I did before.  Change can be difficult, even unpleasant, but we must deal with it the best we can, looking forward with a positive attitude and holding onto hope for what is yet to come.