Triple Times the Busy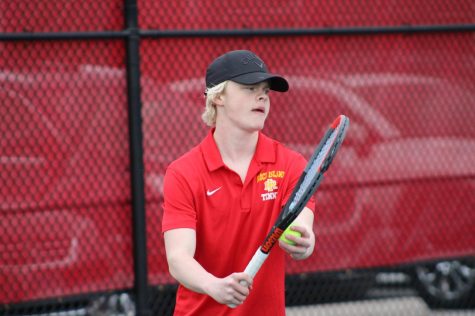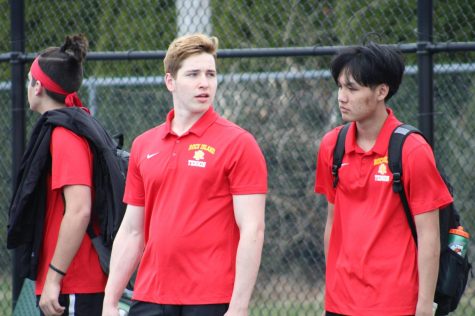 Julian Anderson and Lucas Rettig are seniors who are both familiar with a busy schedule. During the third and fourth quarters, they have been participating in Chamber Choir, the Musical, and Tennis. Julian and Lucas have both been in Chamber since freshman year. Julian has been doing tennis since he was a sophomore, and this is Lucas' first year. Anderson did the Musical his freshman year, and is now returning, and this is Rettig's first year doing the Musical. All three of these factors result in a busy schedule for both students. 
Rettig and Anderson both can vouch for a hectic school day. Rettig says he focuses on music during school, and after school, he either goes to musical rehearsal or tennis practice, and then goes home and does homework, and then relaxes. According to Anderson, the Musical and Tennis tend to conflict, since they're both after school activities, and Chamber keeps him busy during school hours. Both say they focus on music related activities during school and tennis outside of school. "Even though it can be tough, I balance the two by studying my music during the school day with my music teachers, and after school, I focus on tennis," says Anderson. 
Compared to other quarters during the school year, Anderson and Rettig both agree that Chamber during fourth quarter is the most laid back. "I don't think we have as much of a demanding schedule in fourth quarter for Chamber as the rest of the year, which I'm very thankful for," Anderson says. Rettig agrees, and adds that Chamber becomes a lot less stressful come the end of the year.  
When it comes to Tennis, Rettig says he joined because he made a deal with Anderson that, if Anderson stayed in Swimming the entire season, he would join the Tennis team, but that he's glad he did because it's consistent and engaging. Anderson likes tennis and has returned for a few years because it's not only fun, but takes a lot of mental effort and strategy. 
Anderson says that all these activities he's participating in positively wrap up his high school experience at Rocky. "I think I'm happy with my high school experience. Tennis is so much fun, and it's an honor to wrap up my fourth year in Chamber with a great concert. I'm glad I chose to participate in musical again as a senior. I have a lot to positively look back on," he says. Rettig says he looks at his busy schedule as his final moments to remember high school with. Both say it's important to make the most of it.