An Atypical Agenda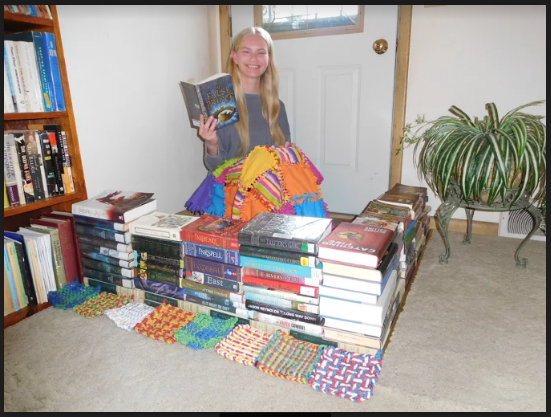 Despite the disappointment of senior year not going as expected, I am enjoying having more free time.  I have a strange sleep schedule, so I have been going to bed around 3 a.m. and waking up around 10 a.m.  I have been getting more than four to six hours of sleep, like I do during school days, so I have been more productive and less stressed and tired.
Every morning, I wake up, eat breakfast, then do something productive, like cleaning my room or going through old school papers.  After eating lunch with my family, I go on a walk around the neighborhood with my mom and sister to get a breath of fresh air and escape the house for a bit.  I sometimes spend more time outside, jump roping on the driveway or throwing around a frisbee with my sister in the front yard.
We originally had one desktop computer for all four of the kids to share.  Fortunately, since e-learning has started, we received two chromebooks from the school, so the two boys can do their homework there, while Natalie and I split the main computer.  Natalie does her homework before lunch and I get the computer after lunch.  I have been working on my ten page paper for AP European History that was assigned before break.  My topic is the evolution of books and the types/purposes of literature from the late Middle Ages until modern times.  I have learned a lot of interesting information and am really enjoying the assignment.  
I've been able to focus a lot more on reading and writing lately.  Most recently, I've been reading Little Men, the sequel to Louisa May Alcott's widely popular book Little Women/Good Wives.  I'm planning on reading through the whole Anne of Green Gables series next.  The first few books in the series were my favorites as a child, but I never got around to reading the rest of the collection.  I didn't realize how long it's been since I've been able to sit down and read for fun until I finally had the chance to do so again.  It's been about a year.  
I've also been watching free author webinars provided by Teen Boot Camp.  I was especially excited to see my favorite author Jennifer A. Nielsen, author of the Ascendance Series.  Additionally, I've had more time and inspiration to work on a story that I hope to eventually turn into a novel.  I finally hit 25,000 words on April 14th!  I typically work on my story between 1 and 3 a.m., because I am an extreme night owl.
Besides literary pursuits, I've also been working on numerous textile, musical, and historical projects.  I've spent a significant amount of time sewing up holes in clothes, making a knot-a-quilt, and weaving potholders.  Having more free time has made it so I can practice flute and piano more often.  I've been taking online flute lessons via Zoom every Thursday since March 19th.  One exciting new project I've been working on is transcribing letters and diaries from the 19th and early 20th centuries for the Newberry Library.  Since I want to be a museum curator, this task is giving me a glimpse into what my dream job might require.
In the evenings, my family sometimes watches movies together or comedy sketches by the original Studio C cast and JKStudios.  My family has been following the TV shows LEGO Masters and Songland.  I also study German on Duolingo after supper.
Although I am sad that I am unable to see my friends and teachers, I like being able to have more time to do activities I enjoy and work according to my own schedule.  I've been enjoying spending more time with my family and I've also been able to get more physical activity than I would have if I was in school.  I'm taking advantage of the lockdown by doing activities that I normally wouldn't have time to do.