A Community That's Together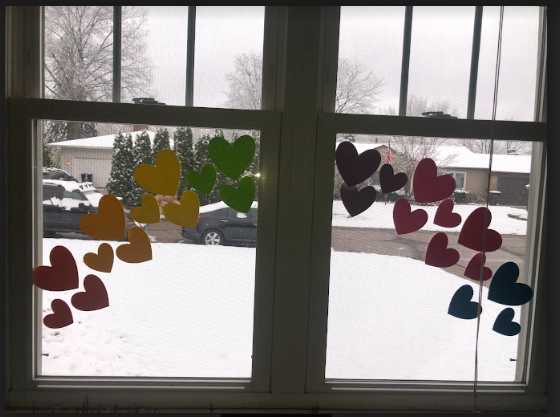 As a community, we have had many changes, good and bad. We were one of the first areas ordered to stay at home, where stores and restaurants closed.  It was a weird thing to experience at first, but businesses and community members came together to support one another! Members of the community have done their part, no matter if it's simply staying home, or dedicating countless hours on the frontlines or any other essential worker exposed to the public.
My perspective has been through many different stages, from being a senior, a teenager who just wants to see her friends, and an essential employee- I have felt this pandemic many different ways. Lately, I have felt very confused as to what and who to believe, what "rules" to follow, and even as a grocery store clerk, why people won't just stay home (weekly groceries are essential, but a daily trip to the grocery store is not!!!). 
Also as a community, in the Quad Cities we have come together to hang hearts in our windows. My mom and I hung them in our front window to hop on the trend. It instantly brought color and joy in our living room, just what we need during these tough times. Also, together as the QC, people have been trying so hard to continue their support for the local businesses that are struggling while they have to be run on curbside pick-ups only. Another great action the whole city took on, is the be the #bethelight challenge for the 2020 seniors. As a graduating senior, I am so thankful for my community and the way we come together to get through tough times.