A Lesson in Creativity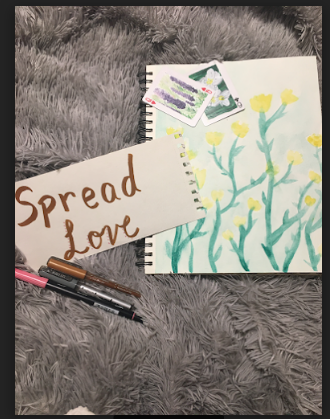 Without the typical onslaught of daily stressors, the world has been able to take a few steps away from technology and connect with their creative side. For most, quarantine has been a time where they can pick up a hobby they lost time for within the bustle of daily living. Despite the daunting list of negative outcomes this pandemic has produced, few people are noticing the positives. 
In an effort to keep busy during the sedentary lifestyle most have taken on, many have turned to art. At any moment you could open the Facebook app on your phone and see many creations pieced together from colored paper hearts. The idea of displaying hearts in the window was originally a way to hold a neighborhood scavenger hunt, while following social distancing guidelines. This quickly spread as it presented itself as the perfect way to spread creativity and provide a sense of unity to those passing by. Simply taping a heart in the window quickly escalated to people sharing elaborate designs encompassing all mediums, ranging from paper hearts to spray painting designs on their fences and sheds.
All social media platforms are flooded with people proudly showing off their newest creations. People are taking to TikTok to ask followers to be their muse, allowing the artist to spend time practicing varying styles and skills that they didn't have time for before. On TikTok, people are gaining fame from showing their quarantine activity of redesigning a forgotten shed or room or painting various odd objects around the house, and showcasing talents as they learn a new dance or song trend. The platform provides the perfect way to upload videos showing the entire process, starting with a before clip and ending with a reveal, all within the time limit of 60 seconds. 
Not only is quarantine a great time for people to jump back into creating art but it is perfect for those who have little to none experience. Currently, online resources are abundant to learn new skills pertaining to art skills. Being a full-time student, homework is typically prioritized over hobbies despite research revealing the beneficial qualities of self-expression in the form of art. According to Mary Ann Cohen, author at rtor.org, creativity has benefits such as, "boosting your self-esteem, and providing you a safe outlet to relieve your emotions, to giving you a sense of control over your life and helping you to get to know and understand yourself better." All of these benefits mentioned are crucial to a happy and healthy student life.
 With the plethora of online art tutorials and the gracious amounts of free time students have ample opportunity to embrace creativity. However not every second needs to be spent trying to perfect your artistic abilities but take this time to explore the possibilities. Sharing your creative abilities is a great way to strengthen your connection with yourself and others despite the physical divide caused by the COVID-19 pandemic.