The Move To Online Schooling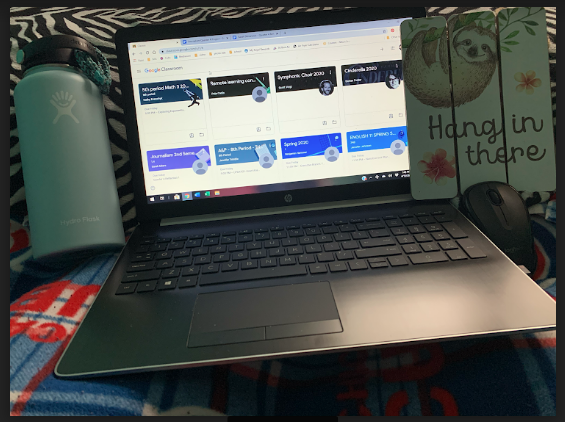 For students worldwide, schools are now going to be online learning, which is something that is very different for all of us. Some students have to use zoom classes, where all the classes are live and you are in a group with all the people that are in your class. Others may be learning through google classroom, where the student's teachers set certain assignments that are due throughout the time period of when the students are not in school. 
When all of the schools were closed at first, our school started doing E-Learning, which was not required and it was just to keep our minds running. The E-Learning had one assignment for each subject and you had to choose four subjects for the first day and then another four for the next day, and then more assignments for the next two days to choose from. Students that are in elementary have specific websites for them to keep learning. Now Rock Island High School has started to do remote learning through Google Classroom. It is going to be different, since some of the teachers did not use classroom before. Some of my teachers have been using google classroom since the beginning of the school year. 
The scheduling will definitely be different and there is a chance I will need to adjust to all of it, since the classes are split, having the first four classes the first day and the rest of the periods for the second day, to only make the learning day about 2 to 2.5 hours a day. Google classroom is a good way for the teachers to send out assignments, and it is easy to turn the assignments in. Thankfully, we have a great school district that makes sure that the community is healthy and has food and ways to still learn. Students were able to go and borrow a chromebook to use during this time. The district has made meal plans for parents to grab to provide lunches for their families. Our superintendent of the school district has been giving us weekly updates for all of the families with information to use and spread to their children. The teachers are able to stay connected to students through Remind, and if a student has a question, they can directly contact the specific teacher. Most of the teachers like sending out little messages to stay safe and keep working on our assignments. 
Having online schooling is different because we are not all together where we can bounce ideas off of each other. Now that we are at home, we have become our own teachers, since our actual teachers are not present. Since we are at home, we are comfortable while we do our schoolwork. My routine has changed because I am used to waking up at a certain time, transferring to the different classes throughout the day, but at home I can choose what class I would like to work on for the assigned day. After school, I would usually go to musical rehearsal. Since we are already at home, it is weird to not work on homework before and after dinner like a normal school day would be like for me. My band and choir classes are going to be something that I have to get used to because we have to take recordings for them to know that we are working on the music that gets assigned. 
There are so many things that I miss, such as bowling, my friends, spring musical, and going out. I always try to keep in touch with all of my friends, and there are group chats that I have been using to stay connected. Bowling is the only sport that I do and it is always important to practice for the high school season, and I want to be ready for my last year of bowling and I believe our team can do amazing things again this next year. It was definitely hard to hear that the Spring Musical, Cinderella was cancelled because I was excited to do my second musical with everyone, the experience was super fun last year and I wanted to bond with the group again. Whenever I would go out I would be hanging out with my friends and doing some retail therapy.