My Quarantine Essentials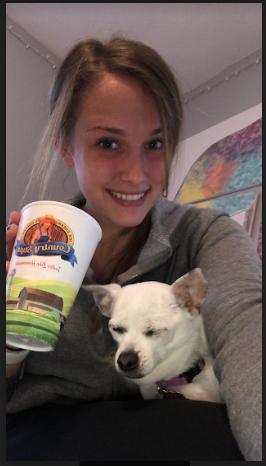 During quarantine, it is important to keep yourself happy, entertained, and sane. There are many necessities that I have and without them, surviving COVID-19 pandemic would be terribly difficult! Some of my favorites would be my dogs, ice cream, and by far, technology. 
I think a great therapy that keeps me happy are my dogs, Maggie and Chia. No matter if it's taking them on a walk or snuggling them in bed, they are a good feeling of comfort. I even painted Chia's nails, haha!! My mom and I will attempt to take the dogs on a walk, but we always end up with only walking Maggie. Chia, a blind chihuahua, will only go about 500 feet before she refuses to walk with a leash, but also walks at a snail's pace. I love her to death, but she's just not meant for walks. Maggie is more of the motivator and Chia is the snuggler. 
My love and addiction for ice cream is unbelievable. I've been a very sad girl because Whitey's has temporarily shut down. I feel like I'm cheating on Whitey's, but Country Style has given me my ice cream fix that comes way too often. If my meals were ice cream, I would be satisfied!
I am so thankful for the technology and resources we have access to. Even though school work doesn't have my whole heart, technology gives us so many opportunities to continue and finish our academic careers, which I am thankful for. Keeping in contact with our friends and loved ones is the best way technology has benefited me. I would be going even more insane than I already am if I didn't have the social contacts that I'm missing out on in my normal life. 
There are so many little things that keep me sane during quarantine, but my dogs, ice cream and technology keep me the most happy.